"Oh my!"
This client had a very nice older home in a country club setting. They loved the quite and convenient neighborhood with its large trees and stable neighbors. They wanted to make the yard and the worn out deck "family friendly." This was a major project that included removing both back deck and front entry deck. We completely re-designed and re-built the front entry deck, poured decorative concrete walks, added a multi-level back deck with a sunken hot tub and a waterfall and pond.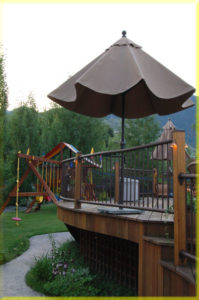 In the Rocky Mountain West we highly value large, mature trees because it takes a long time for them to get that way. One huge benefit of an older yard is that it usually has some well established tree and shrub planting. This makes the new landscape project even more awesome because it looks mature the day we finish. A brand new landscape takes 3 to 5 years to look established. There are some challenges, however, and these include extra effort to work around the items that will stay and minimize damage to the existing lawn, sprinkler system, etc.
This design makes use of the curves. It maximizes the usable space and really facilitates a very unencumbered traffic pattern. While there are several small and intimate spaces for quite moments for Dad and Mom, there are larger deck and lawn areas for kids to play and guests to mingle. The hot tub, though very near the neighbor's fence, is enclosed on two sides with a pergola that opens toward the waterfall. The whole area is further "privatized" by large Aspens, some existing and others that we added. The deck railings were crafted by the very talented Kevin Hawe of Hawe Steel Fabrication & Design. They are powder coated steel that will retain its beauty virtually forever.
There are a couple delightful little design features that just put the cherry on top for a project that we are especially proud of. We installed some low voltage lighting to grace the decorative concrete and stone walks and the Mahogany deck posts and crafted the two side yard gates from the same Brazilian Mahogany used for the decks.
On a personal note; my 20 year old self-taught son Samuel was the lead carpenter on this project. He did threaten to put my French curve somewhere the sun don't shine if I do this again. I'm willing to risk it if you want something this amazing…call me. Steven James